Galfar Al Misnad's employee, Rizlan Iqbar has been appointed as the  Captain of the Qatar National Cricket Team.
Rizlan has been with our IT Division since 2010 and is also the Captain of the Galfar Cricket Club. The Galfar team has reached the Semi Finals of  the ongoing QCA T20 cricket tournament with the highest points of the league.
Rizlan's new assignment as Captain of the National Cricket Team is a matter of great pride for all of us at Galfar Al Misnad.  We now eagerly wait to see the Qatar team flourish and bring home trophies under Rizlan's leadership.
Qatar Tribune – 21st June 2022
https://www.qatar-tribune.com/news-details/id/236921/rizlan-iqbar-named-qatar-national-cricket-team-captain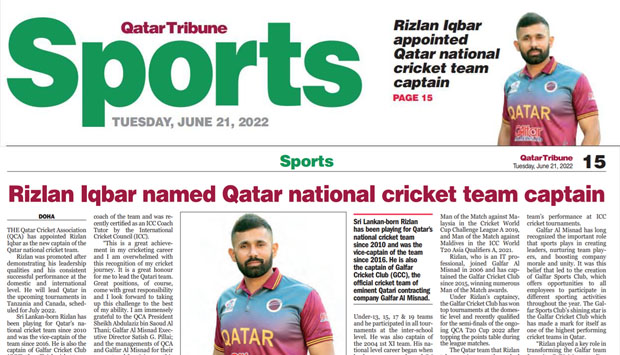 Gulf Times – 21st June 2022
https://www.gulf-times.com/story/719606/QCA-names-Rizlan-new-national-team-captain