Happy to share the media coverage on Galfar Al Misnad's recent award from the Ministry of Labour in Qatar for our consistent efforts towards protecting the health and safety of employees in the work place at the Occupational Safety and Health Conference held by the Ministry. The event was held to observe the World Day for Safety and Health At Work, that is commemorated on April 28th every year.
Galfar was one of only six companies to be felicitated at the function by the Ministry. We were specially commended at the event for being one of the largest companies to continuously maintain exemplary health and safety standards.
Congratulations to all for this notable achievement,  particularly to Mr. Navaneetha Shetty, Head QHSE; Mr. Venkatesan Kulandaivelu, Corporate HSE Manager; and the HSE team, for ensuring that our motto of Safety First is upheld in all our activities.

The Peninsula
https://thepeninsulaqatar.com/article/19/05/2022/galfar-al-misnad-recognised-by-mol-for-commitment-to-employees-safety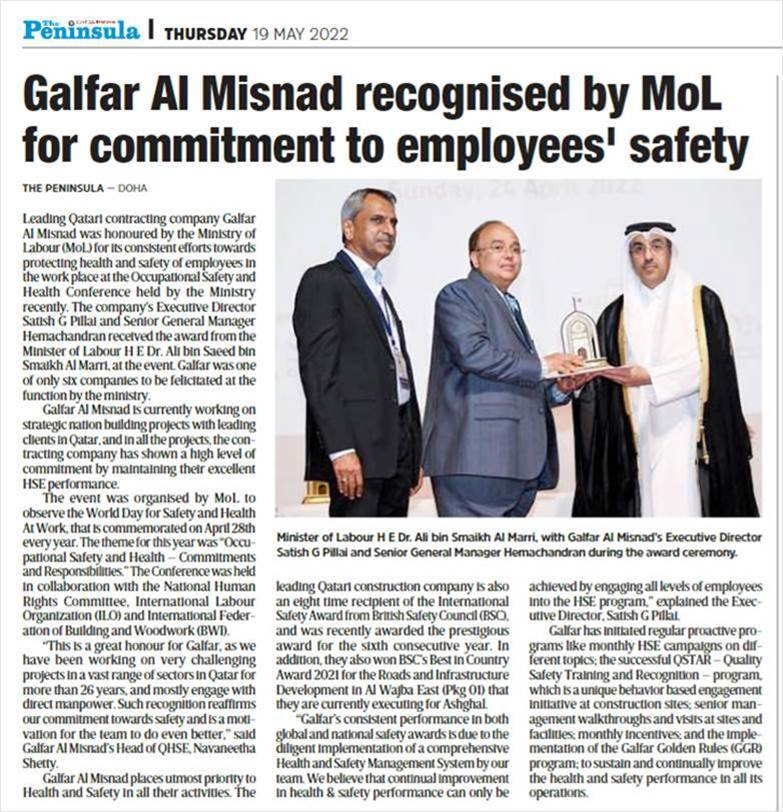 Qatar Tribune
https://www.qatar-tribune.com/news-details/id/234944/ministry-recognises-galfar-al-misnad-for-commitment-towards-staff-safety